Filter by Subcategory
Personal Enrichment
Online Registration Unavailable
How to Live on a Shoestring
with Donnamarie Talarico

Apr 6, 2020 at 6 pm

, runs for 1 week
Learn the many free items that are available from health related to home renovation and everything in between. Learn how to repurpose items as well.
Online Registration Unavailable
Ropes, Knots & Mechanical Advantage
with Robert Riversong

Apr 7, 2020 at 6 pm

, runs for 1 week
Before the days of motors, hydraulic lifts, and heavy machinery, homesteaders, mariners and workers improvised simple mechanical advantage systems to make hard work easy. Beginning with an introduction of ropes and knots, we will look at a variety of pulley systems, principles of leverage and friction-reduction, anchoring systems, simple vector mechanics to understand directional forces, and personal safety issues. We will have hands-on training in knot-tying.
Syllabus:
Rope types (natural, synthetic, steel) and qualities                                   Knot terminology, typology and qualities                                        Knots, hitches and bends-Hands-on Praxis                                     Hardware                                                                                  Mechanical Advantage                                                                         Anchor Systems                                                                                      Hoists, Cranes & High Directionals                                                     Jacking & Cribbing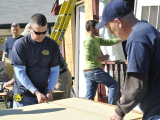 Online Registration Unavailable
How to Weatherize a Home
Price not
available
with Margaret Dean

Apr 15, 2020 at 5:30 pm

, runs for 1 week
This course is designed for homeowners and renters who are interested in learning practical do-it-yourself home weatherization or are interested in learning more about weatherization services, energy services, and initiatives offered by Waldo Community Action Partners.